Color is a power which directly influences the soul.

Wassily Kandinsky
For years now, I've been looking forward to PANTONE's Color of the year. I recently posted in my Instagram, the color(s) they have voted for 2021, they're actually two: Ultimate gray and Illuminating yellow.
Keywords:
warm
positive
friendly
subtle
thoughtful
sunny
happy
relaxed
You can utilize each of them independently, and you can combine the two as well, as they compliment one another.
I must assume that these colors proximate with what 2020 has been and with a hope and positivity to look forward for a better tomorrow.
The first time that they did this (2 colors in 1 year) was 5 years ago. Rose quartz and Serenity. They're softer versions of masculinity and femininity. Blushes of pink and blue like those you see in a nursery.
The reason behind to come up with two is the response of producers to consumers of all genders. Bottom-line, equality. They wanted people to be comfortable with everyone's preference.
Pantone Color of the year from 2000 to 2020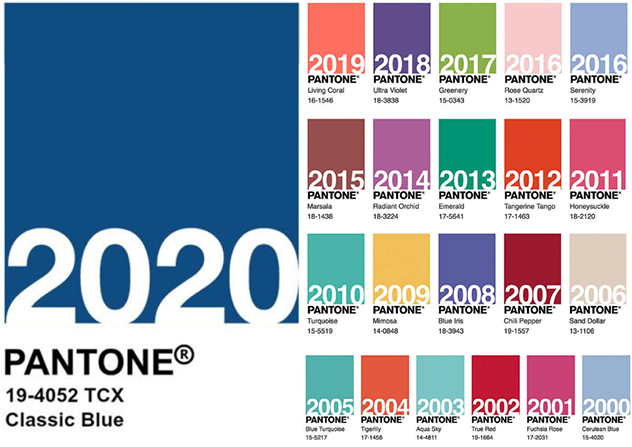 I have been passionate about colors because I firmly believe that emotions and colors are literally intertwined.
Studies show, they can give us feelings of joy and sadness, it can make us calm, it can make us excited, it can make our hearts beat faster which roots from environment, cultural perceptions, social media influence and of course, personal preferences.
Herewith is an Infographic of how Colors generally affects us and the varying emotions affixed to each. You will also see Big names of brands utilizing each color.
Personally, I feel such happiness when I'm surrounded with the colors I love. I also noticed that gifts coming from friends and loved-ones, even colleagues, are of those in my favorite colors, which gives them the comfort of knowing, I'd really appreciate the gift and the thought that they made someone happy.
At any rate, if you ever dislike a specific color, it hurts your eyes, or affects your mood, veer away from it, so what I'm trying to say is just surround yourself with the colors that you love regardless of the trend. Besides, if you dislike a trending color, it can be combined with those that you like by referring to Color formulas and guides.
It is what I'd be discussing here, what can we combine with yellow and gray.
The Color of the Year set by Pantone is the leverage of most industries. As it is what stimulate consumers, be it in Fashion, Interiors, Food & Beverage, Cosmetics, Automobile, Electronics, etc. For some reasons, whatever color is dictated by Pantone, is being similar with Feng Shui's lucky colors too.
Paint authorities usually follows the trend, they might come up with their own, however, Pantone is the benchmark of most brands. In Color Theory, they are divided by just 2 types: Warm and cool colors. Said types affects us differently, however, in general, this is how it goes:
Those belonging to Warm colors (Energizing) evokes feelings of positivity, energy and happiness.
The Cool colors (Calming) gives us feelings of calm, relaxed, at ease, although it sometimes exudes feelings of melancholy.
Applying color to our daily lives is a personal thing. It's like surrounding yourself with people who loves you and supports you and whom you love in return. =) So what can go well with the Pantones' color(s) of the year for 2021?
I will not be using words here, I think it'd be more exciting if we use our visuals instead so as to give us an idea what goes well with these color combinations.
So, I think, we already have an idea what can we do to tweak these two and inject them in our own favorites. Have fun! I will really appreciate if you can send me photos of upcoming projects wherein you were able to blithely use these colors. =)
As for myself, a true lover of the color purple, It would really be easy for me, as it goes really well with yellow. So I'd still be happy, I hope you guys will be too! =)